The Nun 5K and Brother Boogie 10K will be held Saturday May 26th, 2018 in Huntington, Indiana.
2017 Registration is here.
9 AM start at the Saint Felix Retreat Center at 1280 Hitzfield St., Huntington, Indiana 46750.
Visit the Nun Run and Brother Boogie Facebook page.
Contact Race Director Andy Zay at azay@sbcglobal.net or call 260-356-1588.  The race will be chip timed by eRunner Timing.
The course for the event will be a combination road and trail course. The event begins at St. Felix and winds through northside neighborhoods, traversing through the trails around Memorial Park's north gardens and ponds and continuing to Victory Noll. Once at Victory Noll, the course will wind through the nature preserve before ending at St. Felix.
Proceeds from both events will go to the Victory Noll Center, St. Felix Oratory and Huntington Catholic School Booster Club.
The race is an affiliate race of Veep Races and has been selected for inclusion to encourage support for this great cause.
This race is presented and organized by a separate organization that is wholly responsible for the event. Veep Races highlights the race for runners and athletes who participate in our other events.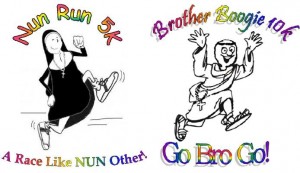 More:
2012 Age Group Results
"Mettler Wins Inaugural Nun Run 5K" – Huntington County Tab, June 09, 2011