Follow @HUFF50K
The HUFF 50K Trail Run

2014 Race Date:  Saturday, December 20, 2014.  You may register for any of the divisions by clicking here.  Note that entrance to Chain O' Lakes State Park is now included in your registration for 2013;  you will not have to obtain a parking pass or pay at the gate on race morning.
A downloadable, printed entry for mailing is available here.
The 2013 HUFF enjoyed perfect weather conditions.  We thank those who made it a record breaking year for the number of finishers.
Testimonial
Doug Sawyer:  "Overall I have to say this was a great race. It was a beautiful, and, if it wasn't for the snow, fast course.[ ... ] The race was well organized, the staff and volunteers fantastic and the food and bling awesome."
2012 RESULTS:
2011 RESULTS:
HUFF Overall Individual 50K and 1 Loop
HUFF 50K photos taken by the professionals at INMedia Source.
HUFF 50K Videos -
A synonym of 'ultra' is 'extreme'.  The 2011 HUFF 50K had extreme and unusual water conditions. Those conditions were unique in the 50 year history of Chain O' Lakes and are unlikely to be repeated.  More likely is the possibility of some snow on December 28, 2013 as we had in 2012; winter race conditions runners regarded as 'perfect' and 'perfectly beautiful'.





The HUFF Medals.
50K finishers will receive a gold colored medal on a custom grosgrain ribbon featuring the HUFF logo.  50K Relay finishers will receive a silver colored medal. Both the 50K and the 50K Relay medals are also belt buckles.
NEW for 2012 and now a tradition in 2013 – One Loop Run (10+/- miles) finishers will receive a medal. The design will be the same as the 50K medal but will be a flat medal rather than a 3d belt buckle.

The 2013 medal will feature a 3D adaptation of a HUFF competitor charging through the challenging water of 2011. After two years, we thought it safe to celebrate the tough competitors who tamed and conquered that course.
The 2012 medal featured Ringo the dog – a favorite of HUFF participants.
The 2011 medal (shown) featured the historic one-room brick Stanley Schoolhouse that now serves as the Chain O' Lakes Nature Center, the torch symbol from Indiana's state flag and the two bucks with locked antlers discovered in 2007 at Norman Lake in the Park.
Check-In: Packet pick-up will be available the night before starting at 5:30 PM at Blessed Sacrament Catholic Church on Friday night (December 27th) or starting at 7:30 AM at the race site (Sand Lake Tent) on race day (December 28th). Packet pick-up and the pasta dinner will be at the nearby Blessed Sacrament Catholic Church on Highway 9  just 3 miles north of the Chain O' Lakes entrance .  See below for more information and a map to Blessed Sacrament Church.
The new location is easier to find and has plenty of c0nvenient, one-level parking.
PASTA DINNER AND PACKET PICK-UP: There will a pasta dinner available at packet pick-up the night before (December 27, 2013)  from approximately 5:30 PM to 8 PM.  The pasta dinner will be at the Blessed Sacrament Catholic Church located just north of Chain O' Lakes State Park.  The address is 2290 N State Rd 9,  Albion, IN 46701-0102 .
Events:
Individual 50K Trail Run
3 Person 50K Relay
1 Loop (10.8 miles) Fun Run
December 28, 2013
Start time 8:00 a.m.
LOCATION: VERY IMPORTANT -  The HUFF 50K  moved to a new venue in northeast Indiana three years ago -  CHAIN O' LAKES State Park in Albion, Indiana.  The terrain is more technical than before.  The amenities to be to a higher standard as well.  The change is exciting and we think you will find the new location to be exciting, too.
AID STATIONS: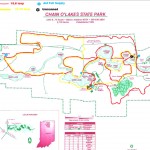 There will be three staffed aid stations along with the Start/Finish tent and one unmanned aid station.  You may
view the  map here
. Aid stations are marked with blue stars are manned. All runners in all race categories will pass by the aid stations.
Here are a few of the things that will be available at the aid stations:  water, sport drink, coffee, hot chocolate at some, bananas, PB sandwiches at some,  pretzels, potato chips, tortilla chips, M&M's, defizzed Coke, boiled potatoes, kidney beans (if our stocker agrees with me), turkey sandwiches at some, unbelievable and out of this world chocolate turtles at the Nature Center/Stanley School and grilled hamburgers at the 'Birdland' Aid Station.
Our thanks to Team Bird, Three Rivers Running Co., the dynamic duo of Linda Keuneke and Paul Knott, and our Main Tent staff for heading up the manned stations.
PARKING:VERY IMPORTANT:  Runners should park in one of the two large surface lots near the campground.  This is a short walk to the Main Tent at the Sand Lake Main Tent.  The parking lot at Sand Lake will be utilized for the Start/Finish, volunteers, service and emergency vehicles.  For everyone's safety, please use the two campground lots or one of the other lots nearby.  When you enter the Park, go past the drive off to Sand Lake – continue to one of the next two entryways to your right. Those are the campground lots.
Again, no entry pass will be required for 2013 – it is included in your entry fee.
Lodging information available here.
Camping is available at the Chain O' Lakes State Park.  Comfort station #1 will be open in the campground for race weekend.  Pick a site when you arrive and a ranger will be around to collect the fee at some point in your stay.   Chain O' Lakes Park number  is (260) 636-2654
Coordinates: Those who are interested in latitude/longitude coordinates for mapping devices may consult this list:
For the RUNNER'S PARKING AREA (also post-race showers at the campground)
Latitude, Longitude
41.330674,-85.372256
For the MAIN TENT:
Latitude, Longitude
41.330007,-85.383334

For the START/FINISH:
Latitude, Longitude
41.329644,-85.382465

For the BIRDLAND AID STATION:

Latitude, Longitude
41.338715,-85.41742

For the NATURE CENTER/Stanley School AID STATION:

Latitude, Longitude
41.338184,-85.36547
REGISTER ONLINE by clicking here.
PRINTABLE MAIL-IN REGISTRATION available here.
Entry Fee:
Individual 50K ultramarathoner:
$70 through June 30, 2013
$75 from July 1 through November 30, 2013
$85 from December 1 until December 20, 2013
3 Person Relay Team – Adult:
$150.00 for Team through September 30, 2012
$165.00 for Team from September 30 through December 8, 2012
$175.00 for Team from December 8 until December 26, 2012
DISCOUNTED ENTRY FOR 19 & UNDER RELAY TEAMS
Please know that 19 & Under Relay Teams are eligible for Relay Team Scholarships sponsored by Fort Wayne Cardiology and Drs. Mark O'Shaugnessy and Eric White.  There will be a Fort Wayne Cardiology HUFF Relay Scholarship application form posted here as a PDF.   The Scholarships are an additional discount off the discounted entry fees for 19 & Under Relay Teams shown here:

The discounted fees shown here are for all 3 team members together:

$90.00 for Team through December 15, 2012
$105.00 for Team from December 15 until December 26, 2012
No registration after Dec 26.  No registration on race day.

All 50K and relay entrants will receive running gear bearing the HUFF50K logo.
One loop Fun Run
(T-shirt is included):
$35.00 until October 31.
$40.00 from Nov 1 thru Nov 30
$45 from Dec. 1 until Dec. 22
Make checks payable to: VEEP Races.
Contact:
Mitch HarperRD@VeepRaces.com
5207 Hopkinton Dr.
Fort Wayne IN 46814
Phone: 260.436.4824
FAX: 260.436.8284
Showers: Showers will be available on site.  The showers will be available at the Main Chain O' Lakes campsite just east (and up the hill) from the start/finish.
Awards:  Belt buckle medals to 50K, 50K Relay Finishers will be presented at the finish line, and – now, since 2012 – medals for One Loop Finishers, will be presented at finish line.
The heaviest award in ultramarathons will be presented to the overall male and female winners of The HUFF 50K
Age group awards will be presented at end of race or will be mailed to participants.