2020 RESULTS:
RELAY
See NEW COURSE MAP BELOW
Unfortunately, the 2022 HUFF has been paused for this year.
It is something of a consequence of COVID.  We were most proud of conducting a safe HUFF in 2020.  It was the most gratified I felt of any HUFF as the safety plan was executed well and that was a tribute to our volunteers, our vendors, and, most importantly, our runners.
Several runners approached me after they finished (and before they complied with the plan to not congregate and leave shortly after they finished).  They all said a variation of what the first runner from Chicago told me, "Thank for going forward with the race. You have no idea what you have done for my mental health."
However, the very large Thanksgiving Day race we conduct had been cancelled.  That loss of revenue and the lower numbers of participants for races that were conducted meant difficulty with fixed expenses.
We needed to ensure the health and restoration of the Thanksgiving Day race to reengage at the quality level of the past.
And, thankfully, I can report that has occurred.  About a third to half of the running community was not ready to attend races in 2021 but in 2022, the runners are back.   We have had a great response from sponsors and the plan for the Galloping Gobbler is on track.
Finally, I want to say that we want a HUFF where we properly acknowledge and honor our  past HUFF champion Mark Godale.  And we want to do so in a way that is worthy of Mark's achievements and friendship.
That we  can do by executing a 2023 plan worthy of Mark, our volunteers and . . . each of you – the runners of The HUFF.
2023 will be the the start of our second 25 years of continuous events.  The first 25 years were without interruption.  25 years without change of time of year so that you can test yourself against time, distance . . . and Mother Nature.
We have taken on constructing a robust safety plan.  It will require different practices and a paring down of activities associated with it. But we know folks want to run and we are endeavoring to create a safe platform for runners, volunteers and support personnel to do so.
If circumstances change, registrants will be notified. The race start will take place at the top of the hill (above the Sand Lake parking area).  This will put participants in close proximity to the major parking lots above Sand Lake.  ALSO, 50K participants will start at 8 AM.  One Loop AND Relay participants will start at 9 AM or later. The start mat will be open for each event at least 15 minutes.
Relay teams will run together and add their times.  This is a change from what we have jokingly called the only real rule for The HUFF.  We have always required relay teams to run a real relay – with the next leg not begun until the prior leg's runner had crossed the mat at the chute. In 2021, we experimented with what we termed "Mix and Match" – runners could run as a regular relay with the first runner starting at 8 am; run together starting an hour later; or have one runner run one leg and the other two on the team run together.  We may keep that flexibility because we found it fit the situation of some runners for which it aided their scheduling or child care.
Understand we are still working with health authorities on this plan and that details may change as circumstances change.
Note that entry to Chain O' Lakes State Park is included in your registration;  you will not have to obtain a parking pass or pay at the gate on race morning.
What sort of a challenge is The HUFF 50K?  Here is a great video of the 2016 race:

Packet pick-up will be available both the night before the race from 5:30 PM  to 7:30 PM Friday night at Running Around Screen Printing, 227 W Van Buren St, Columbia City, IN 46725 and then again on Saturday morning before the race at the Main Tent at Sand Lake, COL State Park.  You will be able to make changes to teams or make corrections in your name.
Running Around Screen Printing is located at 227 W Van Buren St, Columbia City, IN 46725 – 2 blocks west of the Whitley County Courthouse.
Runners can gather after packet pick up on Friday night  from 5:45 pm to approximately 8 pm at Chapman's Tap Room just a block and a half from Running Around Screen Printing. Chapman's is directly across from the Whitley County Courthouse at 227 W Van Buren St, Columbia City, IN 46725. The Tap Room has great craft beer.
Results will be shown continuously scrolling on television screens in the Main Tent during the race day.  Periodic updates will be posted throughout the day at erunner.biz/results.
Course map. You may view the 2022 course map below or at this link .  The new map made changes so that the runners face more rational choices in direction where parts of the two courses converge and diverge.  Runners will all be running in the same direction wherever the courses do converge.  Relay runners and one loop runners will run the GREEN course.  50K individual runners will be running the PINK course.  Trail flags in the respective colors will guide runners along the course.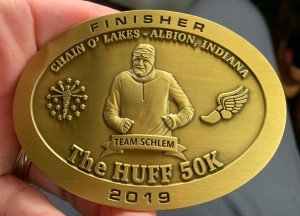 2020 Finishers of the 50K and the Relay will receive belt buckles. The One Loop Finishers will receive medals.
Overall and age group winners will also receive plaques.
The OVERALL 50K Winners will receive one of the heaviest awards in ultramarathoning.  It is a specially cast translucent blue art glass slab with the race logo etched into its face.
PHOTOS of the 2017 HUFF by Daniel O. Owens and staff are now posted here on the Veep Races Flickr page.
PHOTOS of the 2015 HUFF by Daniel O. Owens are now posted here on the Veep Races Flickr page.
2015 Results:
HUFF 50K Trail Run Individual 50K Overall
HUFF 50K Trail Run Individual 50K Age Groups
HUFF Trail Run One Loop Overall
HUFF Trail Run One Loop Age Group
HUFF 50K Trail Relay by Team Name, Members' Names and Division
Results will be posted here on the Veep Races results page.  Age groups are to follow.
News-Sentinel newspaper article by Tanya Isch Caylor on the 2014 HUFF.
The 2017 and 2016 HUFF runners faced some of our toughest weather conditions. However, the 2015 HUFF enjoyed great weather conditions.  We thank those who made it a near record breaking year for the number of 50K finishers.
Testimonials
Shawn Tate Peterson: So well coordinated. I cannot wait to do this race again next year! (Written January 2015)
Julie Ader Loving: "Best race ever! This is our third year running the Huff 50k. Beautiful trails, aid stations are wonderful tons of food especially the chocolate turtles. The volunteers were amazing! Nicest people you will ever meet. very organized too, we will definitely be back for 2015."
Doug Sawyer: "Overall I have to say this was a great race. It was a beautiful, and, if it wasn't for the snow, fast course.[ … ] The race was well organized, the staff and volunteers fantastic and the food and bling awesome."
2012 RESULTS:
2011 RESULTS:
HUFF Overall Individual 50K and 1 Loop
HUFF 50K photos taken by the professionals at INMedia Source.
HUFF 50K Videos –
Another video of the 2016 HUFF showing a bit of the snowy conditions seen above.

The 2014 and 2013 HUFF weather conditions were outstanding.  A great video showing the trail and illustrating the fun of The 2014 HUFF was made by Scott VanLoo.
2014 The Huff 50K Recap from Scott VanLoo on Vimeo.
A synonym of 'ultra' is 'extreme'.  The 2011 HUFF 50K had extreme and unusual water conditions. Those conditions were unique in the 50 year history of Chain O' Lakes and are unlikely to be repeated.  The likeliest winter race conditions are like those of 2012, 2013, and 2014;  race conditions runners regarded as 'perfect' and 'perfectly beautiful'.





The HUFF Medals.
50K finishers will receive a custom gold colored medal.  The 2017 design featured three time winner Ann Heaslett.  50K Relay finishers will receive a silver colored medal. All medals are made in the Midwest, or, as we like to say, the Old Northwest Territory.

Now a tradition – One Loop Run (10+/- miles) finishers will receive a medal.
The 2011 medal (shown) featured the historic one-room brick Stanley Schoolhouse that now serves as the Chain O' Lakes Nature Center, the torch symbol from Indiana's state flag and the two bucks with locked antlers discovered in 2007 at Norman Lake in the Park.
Check-In: Packet pick-up will be available the day before on Friday night (December 16th) OR starting at 7:30 AM at the race (Chain O' Lakes gate house) on race day (December 17th). Packet pick-up is at Running Around Screen Printing in its historic building in Columbia City one block west of the Courthouse.
Events:
Individual 50K Trail Run
3 Person 50K Relay
1 Loop (10.8 miles) Fun Run
December 28, 2019
Start time 8:00 am for the Relay and One Loop Runs; 8:15 am for the Individual 50K.
LOCATION: VERY IMPORTANT   The HUFF 50KÂ  moved to a new venue in northeast Indiana ten years ago   CHAIN O' LAKES State Park in Albion, Indiana. The terrain is more technical than at the Huntington Reservoir.
AID STATIONS: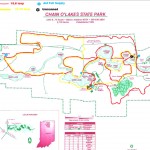 There will be three staffed aid stations along with the Start/Finish tent and one unmanned aid station.  You may
view the old map here
. We'll p0st a new map prior to the 2018 race; an adjustment was made to move the Aid Station at the Fishing Pier across Sand Lake to the parking lot at Dock Lake.  Aid stations are marked with blue stars are manned. All runners in all race categories will pass by the aid stations.
Here are a few of the things that will be available at the aid stations:Â  water, sport drink, coffee, hot chocolate at some, bananas, PB sandwiches at some,  pretzels, potato chips, tortilla chips, M&M's, defizzed Coke, boiled potatoes, kidney beans (if our stocker agrees with me), turkey sandwiches at some, unbelievable and out of this world chocolate turtles at the Stanley School and grilled hamburgers at the Rally Camp Aid Station.
Our thanks to great volunteers and our Main Tent staff for heading up the manned stations.
PARKING:VERY IMPORTANT:  Runners should park in one of the three large surface lots near the campground.  This is a short walk to the Main Tent at the Sand Lake Main Tent.  The parking lot at Sand Lake will be utilized for the Start/Finish, volunteers, service and emergency vehicles.  For everyone's safety, please use the two campground lots or one of the other lots nearby.  When you enter the Park, go past the drive off to Sand Lake – continue to one of the next two entryways to your right. Those are the campground lots.
Again, no entry pass will be required for 2022 – it is included in your entry fee.
Lodging information available here.
Camping is available at the Chain O' Lakes State Park.  Pick a site when you arrive and a ranger will be around to collect the fee at some point in your stay.  Chain O' Lakes Park number  is (260) 636-2654
Coordinates: Those who are interested in latitude/longitude coordinates for mapping devices may consult this list:
For the RUNNER'S PARKING AREA
Latitude, Longitude
41.330674,-85.372256
For the MAIN TENT:
Latitude, Longitude
41.330007,-85.383334

For the START/FINISH:
Latitude, Longitude
41.329644,-85.382465
For AID STATION A at the Stanley One Room Schoolhouse:

Latitude, Longitude
41.338184,-85.36547

For AID STATION B at Rally Camp:

Latitude, Longitude
41.338715,-85.41742

For AID STATION at the Dock Lake Parking lot:

Latitude, Longitude
41.334843, -85.375394

All 50K and relay entrants will receive running gear bearing the HUFF50K logo.

Make checks payable to: VEEP Races.

Contact:

Mitch Harper RD@VeepRaces.com
5207 Hopkinton Dr.
Fort Wayne IN 46814Phone: 260.436.4824Mobile: 260-435-9524

Showers: Showers are not available on site when the race occurs after Christmas Day.

Hot showers will be available in 2020 at the Whitley County Family YMCA in Columbia City IN and the Cole Center YMCA in Kendallville after the race but before 6 PM.  Both YMCA's have graciously allowed the use of their facilities on race afternoon by 2017 and 2018 runners.

Awards:  Belt buckle medals to 50K, 50K Relay Finishers will be presented at the finish line, and – now, since 2012 – medals for One Loop Finishers, will be presented at finish line.

The heaviest award in ultramarathons will be presented to the overall male and female winners of The HUFF 50K. In past years, it was first a large cast gargoyle, then it was a large granite plaque.  Starting in 2016, it is a translucent slab of sandblasted art glass produced by the oldest art glass manufacturer in the United States.

Age group awards will be presented at end of race or will be mailed to participants.